Lantern Project by EWB-MANIT, Bhopal Chapter
In India, the rural sector lags a huge phase behind the urban sector. While the urban sector is developing at a rapid rate, there are thousands of villages which are still deprived of basic needs like electricity and lighting. Also, they are far away from the main towns/cities, making them inaccessible from the main power grids. There are many forest villages in our country where drawing transmission line is not feasible.
As the above problem persists, it requires us to provide simple, durable, cheap and eco friendly lighting solutions to villagers. Solar lighting is a possible solution.  In Indian market there are so many solar lighting solutions available, the best feasible option being solar lanterns. These lanterns are very costly due to technology and marketing. Our target is to provide cheapest solar lantern to villagers.
Solar lantern is used for illumination purpose in village. It is charged by sunlight and can run for 10 to 12 hours. In rural areas, the high cost of kerosene consumes much of a family's income. One lamp consumes 0.023 litres per hour. With daily usage of around four hours, it amounts to around 3 litres per month. Even with government subsidies, a family spends Rs. 45 per month on average for kerosene.
Now, we look at things from the environmental perspective and the climate change angle. According to market research carried out by Solar Aid in Malawi with TRAID funding, the average kerosene lamp creates around a ton of carbon over 10-14 years. There are around 1 -1.5 million kerosene lamps in Malawi, so replacing them with solar lanterns will lead to significant reductions in carbon emissions.
EWB- India Maulana Azad National Institute of Technology (MANIT), Bhopal Chapter developed a SOLAR LANTERN. Specifications of this lantern are as follows:
SOLAR MODULE- 4.5 volts, 0.9 watts.
POWER LED BULBS -0.25 watts One LED.
BATTERY-3.6 V (3 cells each of 1.2 V), 700m Ah. (Needs to be replaced every 3 years and will cost approx. INR 150)
EMERGENCY  USE-    8 to 10 hours
DAILY USE- 6 hours charging in sunshine months.  IN CLOUDY DAYS, 10 to 12 hours

FEATURE-

As a table lamp use.
300 degree Lighting.
Comfortable and cool light.
Can be charging by hand dynamo.
Portable and light. (Weight 600gm)

PROTECTIONS – Keep away from water, charge according to climatic conditions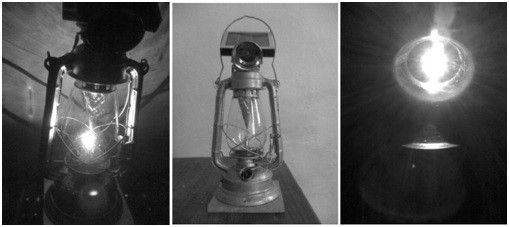 Individual cost of this solar lantern was INR 800-900, we expect that this can be further requested on a mass scale production.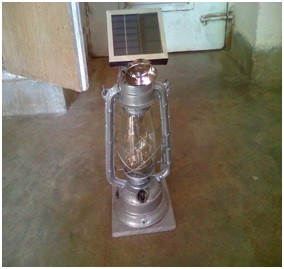 Trial experiment in Nilgar Village, Madhya Pradesh :
A trial experiment in Nilgar Village, Ratapani Sanctuary, Madhya Pradesh, 90 km away from MANIT. Nilgar village has 40 families and it is 4 km away from the main road. The market is 7-8 km away from the village and most of the villagers have not even seen light in their lives. The village has one school, but teachers never visit school. The villagers said that 4 hours of light per day will be sufficient for them and they can't afford to buy kerosene.
During the trial run of the solar lantern in Nilgar village, it was found that complete charging of battery took around 8 hours in summer days, 10 hours during winter and 15 hours under cloudy skies. Lantern ran for about 30 hours after one full charging. Due to its long back up time, charging was not required every day. Battery life is 1000 charge-discharge cycles. Hence it would last for about 3 years successfully.