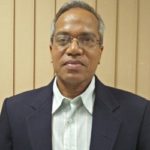 ---
Dear Members,
Welcome to Engineers Without Borders-India. It's my privilege to be Chairman of an organization which is dedicated to improve the quality of life of common people with the help of students and professionals. This experience will be unique and different from my experience in aerospace companies for 31 years. I'm glad that I work in a company, i.e. Pratt & Whitney, a United Technologies Company which supported several projects. These projects have been carried out through EWB-India for last several years. I must thank those companies which have been helping EWB India in this journey.
I'm proud to mention that everybody in EWB India gives free service. Professional chapters are doing great job in guiding student chapters and carrying out flawless execution of projects. But, I expect more from EWB India Directors, from professional chapters and from student chapters. I have expressed my expectation to some of you during last 4 months. My expectations are simple such as Directors should put their best effort connecting to corporate as part of fund raising, professional chapters should mobilize funds as well as involve student chapters in project.
I'm glad that some chapters are doing extremely good job. Please keep up doing good job. I am happy to mention that last several years, every year students from University of Connecticut, USA come to India to be part of EWB India projects. When projects are carried out through EWB India Professional chapters, EWB India student chapters and EWB USA student chapters the benefits are manifold.
I have been associated with EWB India since 2006 and have carried out several projects such as portable water plant, solar power plant, school building construction, setting up of science laboratory, constructing kitchen and store room, toilets, residential building cum eLearning center, etc. etc. I am passionate about improving the education in Govt. schools. Total 28 eLearning centers have been set up in Govt. High Schools and Govt. Primary Schools in Hyderabad and Bangalore. First eLearning center was established in 2011, I am happy to mention that this has become part of 'Digital India' initiative.
Friends, I will set up teleconference with all of you to share our feeling while working in EWB-India, share best practices, share lessons learned and our experiences. We have very exciting future so self-motivate and inspire others to do good job. We have great advisors in India and abroad and very respectable directors on board to help us.
Best Regards,
Bharat Chandra Maharaj
Chairman, EWB-India