---

EWB-Student Chapter bags appreciation from District Collector – Medak

---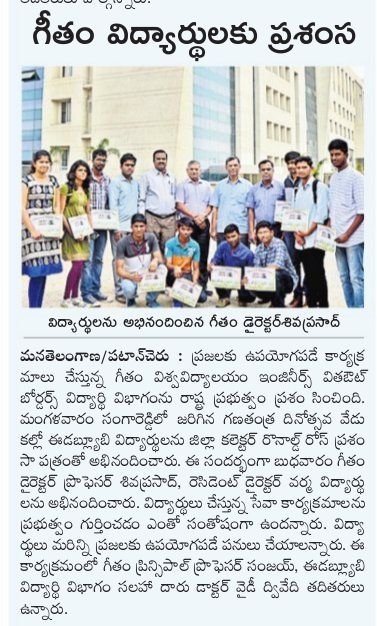 The socially conscious EWB Student Chapter-GITAM University Hyderabad Campus,organized three health camps at remote and tribal villages of MothilaTanda and Rudraram along with the areas around the University campus during the last six months. 551 units of blood were donated to different blood banks to help the poor cure from blood deficient diseases by the students and staff of the GITAM University. This chapter has developed and provided self-designed bio toilets in the nearby villages. During Chennai flood tragedy the EWB chapter, collected Rupees 50 Lakhs of fund out of which three trucks of food grains, blankets, cloths and medicines were supplied to the flood affected people. The online help center was setup in GITAM campus, which was manned 24×7 for 10days to help the needy and also to find donors who were ready to help and donate to the victims.
The district collector Sri Ronald Rose IAS has visited the help center and given some important tips to function the center efficiently. The District Collector- Medak, Sri Ronal Rose IAS gave appreciation certificates to the EWB student Chapter GITAM University and honored for its outstanding contribution towards social work to the student members and faculty advisor Prof. Y D Dwivedi during Republic Day parade at Sangareddy, Medak district, Hyderabad.